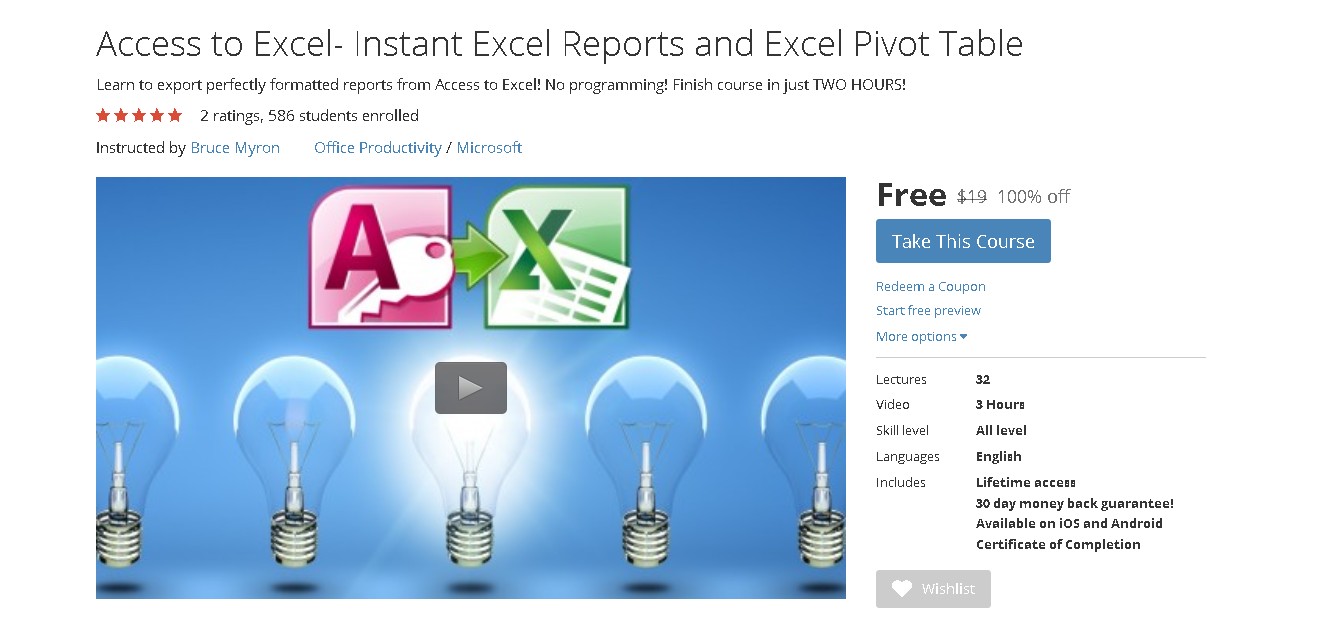 Worldwide
Free Course @ Udemy: Access to Excel- Instant Excel Reports and Excel Pivot Table
This Course has now DOUBLED in size to TWO Hours! Additional content covers an alternate method for linking to Excel and creation of Data Slice Tables and a Pivot Table in Excel. Now FIVE reports in the Excel file and they can all be updated from Access in a matter of seconds!
This course shows you how to link Access to Excel so you can run a query for any time period and have it instantly update when you refresh your link in Excel.
From a Student –
"This is an excellent course. Easy to follow with great explanations of what to do and why. I have learned so much and will refer back to this course. I can see this course and the information it teaches being very, very helpful in real world situations where you need to access database data in excel and use excel functionality to manipulate the data further. Awesome!" – Bronwyn Wilson
The method uses queries and macros, but NO PROGRAMMING, so anyone with just a very basic knowledge of Access and Excel can easily accomplish all the tasks in the course.
* Videos show you every step from the initial Access tables to finished Excel report!
* There is no fluff and you can learn the entire method in a little over one hour!
Think of how much time this will save you! Any reports you do on a regular basis can be setup with this method and you can save many hours every month!
This is especially helpful if you have to recreate a report for some past time period. Since Access can hold many years of data, you can recreate monthly reports for any time period – instantly!
And remember – you don't have to know anything more than the bare basics of Access and Excel to learn how to instantly send data from Access to Excel. Click the Take This Course button and start learning right now!
What are the requirements?
A very basic knowledge of Access and Excel
What am I going to get from this course?
Over 32 lectures and 2 hours of content!
Create links between Access and Excel that instantly update report data
Tags: #giftout.co,#giftout, #giftoutco, #giftoutsingapore, #giftoutusa, #giftoutmalaysia, #giftoutworldwide, #giftoutsweepstakes, Giftout Singapore, Giftout Malaysia, Giftout USA, Giftout Sweepstakes, Giftout Worldwide, Free Singapore, Singapore Free, Free Malaysia, Malaysia Free, USA Free, Free USA, Worldwide Free, Free Worldwide, Singapore freebies, Malaysia freebies, USA freebies, Singapore giveaway, Malaysia giveaway, FREE, #FREE, gifts, free gifts, free gift, contests, contest, #sweepstakes, #giftoutkorea, korea free, free korea, Giftout Korea, Giftout Exclusive, www.giftout.co, free korea, #Singapore, #Malaysia, #Korea, #USA, #Worldwide, @giftout, @Singapore, @Malaysia, @Korea, @Worldwide, #contests, #Contest, free everyday, free today, #sale, #marketing, #facebook, facebook, #tweets, tweets, #fb, fb, #twitter, twitter, Instagram, #instagram, #google, google, google+, #google+, linkedin, #linkedin, tumblr, #tumblr, youtube, #youtube, social media, Korea giveaway, worldwide giveaway, usa giveaway, malaysia gift, singapore gift, korea gift, usa gift, free gifts, free gift, video, #video, videos, #videos, #giftideas #giftcard, #follow, follow, competition, #competition, prize, #prize, #birthdaygifts, #giveawaysingapore, #giveawaymalaysia, #giveawaykorea, #giveawayusa, #giveawaycontest