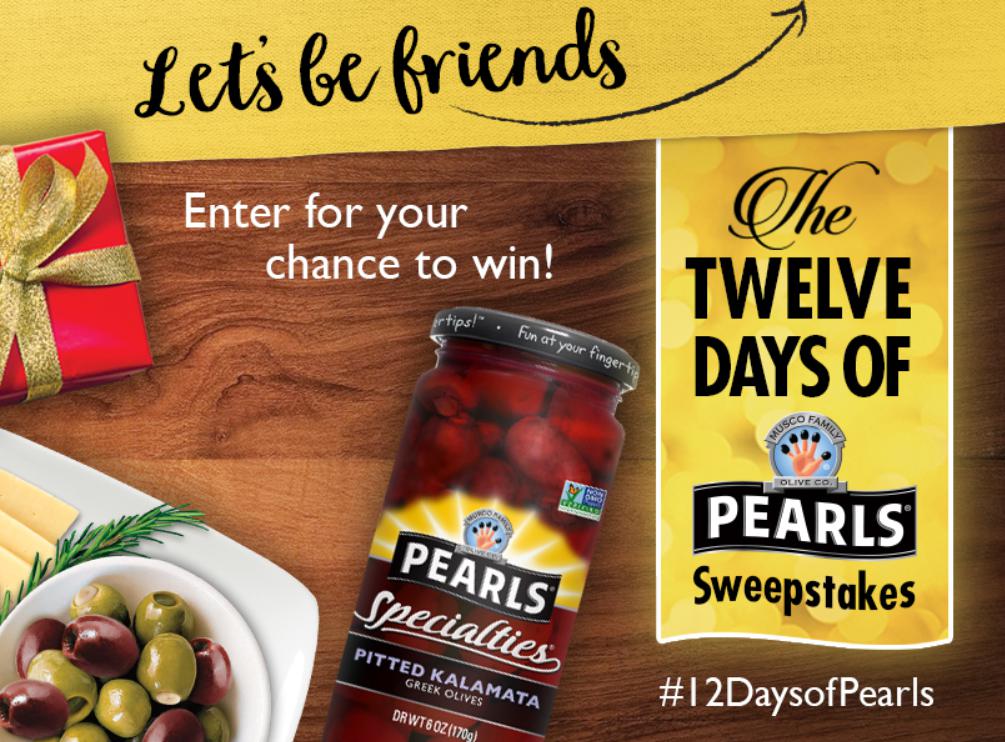 USA
Musco Olives 12 Days of Pearls Sweepstakes
Enter Musco Olives 12 Days of Pearls Sweepstakes.
Official Rules
NO PURCHASE OR PAYMENT NECESSARY TO ENTER OR WIN.
VOID WHERE PROHIBITED.
This promotion is in no way sponsored, endorsed or administered by or associated with Facebook, Twitter or Instagram. You understand that you are providing your information to Musco Family Olive Co. and not to Facebook, Twitter or Instagram.
1) Promotion Description: Musco Family Olive Co. (the "Sponsor") is offering "12 Days of Pearls Sweepstakes" (the "Promotion") and will determine winners and award prizes on the basis of random winner selection. The overall Promotion begins December 5, 2016 at 12:00:01 AM Pacific Time ("PT") and ends at 11:59:59 PM PT on December 16, 2016 ("Promotion Period"). The Promotion is conducted as a series twelve (12) consecutive daily drawings ("Daily Drawings") .
There is a limit of one (1) entry per day per person regardless of the entry method. All entries received in a given Daily Drawing Period are eligible for that Daily Drawing and will be "rolled forward" for inclusion in all subsequent Daily Drawings. There is a limit of one (1) prize per person.
2) Eligibility: The Promotion is open only to legal residents of the United States and the District of Columbia who are eighteen (18) years of age or older (and/or have reached the age of majority in their state of residence) at time of entry.
This Promotion is not open to:  employees, officers, and directors of the Sponsor, its affiliates, subsidiaries, divisions, advertising, promotional, fulfillment and marketing agencies, (collectively "Promotion Entities"), their immediate families (parent, child, sibling & spouse) and persons living in the same households of such individuals (whether related or not).  Void in Puerto Rico, all other U.S. territories and possessions, overseas military installations and where prohibited by law, rule, or regulation.
3) How to Enter: You may enter by any of the following methods:
Via Facebook – Visit www.facebook.com/PearlsOlives, follow the prompts to enter your email address, first/last name and share "how your holidays are Better with Pearls™."  (You will have the option to "Like" Pearls Olives on Facebook and/or to opt in for subsequent electronic communication from the Sponsor, however neither is a requirement for entry nor does it impact your chances of winning.)
Via Twitter– Post the hashtag #12DaysofPearls to receive one (1) entry. (You will have the option to "Follow" Pearls Olives on Twitter however it is not a requirement for entry nor does it impact your chances of winning.)
Via Instagram – Before entering ensure the "Photos are Private" option in your account settings is set to "OFF". Post the hashtag #12DaysofPearls to receive one (1) entry. (You will have the option to "Follow" Pearls Olives on Instagram however it is not a requirement for entry nor does it impact your chances of winning.)
Creation of false accounts on Facebook, Twitter or Instagram is prohibited. (If you have used a mobile device for any of the entry methods, message, data rates or other charges may apply; check your mobile plan for rates and details. Participation may not be available on all carriers.) In the event of a dispute of any entry, the authorized account holder of the Facebook, Twitter or Instagram account used to enter will be deemed to be the entrant. The "authorized account holder" is the natural person assigned the account by the online service provider or other organization responsible for assigning the accounts.  You may be required to show proof of being an authorized account holder.
Submit your entry with the clear understanding it may be posted on a public website(s) for public viewing during the Promotion Period. By submitting an entry, you hereby grant permission for the Entry to be posted on www.PearlsOlives.com or other websites. You agree that Released Parties (as defined below) are not responsible for any unauthorized use of your entry by third parties. Released Parties do not guarantee the posting of any entry. You agree that you will not use the entry for any other purpose, including, without limitation, posting the entry to any online social networks, without the express consent of Sponsor in each instance.
By submitting your entry, you agree that it conforms to these Official Rules and that Sponsor, in its sole discretion, may disqualify your entry for any reason at any time, including if it determines, in its sole discretion, that it fails to conform to these Official Rules in any way or otherwise contains unacceptable content as determined by Sponsor, in its sole discretion.
4) Data Collection – By entering the Promotion, you agree to all of the terms and conditions of Sponsor's Privacy Policy, which is available at http://www.olives.com/privacy.html
There are a total of twelve (12) prizes available with a total ARV of $480. The odds of winning depend upon the number of eligible entries received in any given Daily Drawing Period.
6) Winner Confirmation – If you are a potential winner who entered using Instagram or Twitter, you will receive a message via the platform on which you entered requesting you to contact the Sponsor to provide your name/address for the purposes of prize fulfillment; if you entered via Facebook you will receive an email at the address associated with your entry requesting the same information for the purposes of prize fulfillment, (collectively "Prize Notifications"). Potential winners will have three (3) days from Sponsor's Prize Notification to respond with the requested information.  Failure to respond in any of the indicated time frames will result in disqualification.  Any unclaimed prizes will not be awarded.
By acceptance of a prize, winners grant Sponsor the right to use and publish in any media now known or hereafter developed, the winner's name, likeness, city and state of residence for Sponsor's advertising, promotional and trade purposes in perpetuity without notice or further compensation, except where prohibited by law. Winners shall not be permitted to replace their designated prize with another prize or item or transfer or assign their prize to another person. All federal, state, local, and other taxes on prizes are the sole responsibility of the winner. Promotion Entities reserve the right, exercisable at any time in their sole discretion, to substitute a prize of equal or greater value. Any costs associated with prize acceptance and uses not specified herein as being provided, are the winner's sole responsibility.
7) General:  All participants agree to comply fully with each provision in these Official Rules.  Any person attempting to defraud or in any way tamper with this Promotion and any person who does not comply with these Official Rules, will be ineligible for participation in the Promotion and/or any prize(s) and may be prosecuted to the full extent of the law. Any Entry generated by a script, computer program, macro or other automated means will be disqualified.  If, during the Promotion Period, for reasons beyond the Sponsor's control (including, but not limited to, tampering or computer virus infection), the Promotion is not capable of running as originally planned, the Sponsor, at its sole discretion, reserves the right to cancel or modify the Promotion, without liability and to the extent feasible, will determine winners at random and award prizes from eligible entries received prior to cancellation or modification. Sponsor is not responsible for Internet, computer hardware and software, phone, and other technical errors, malfunctions, and delays. Entries, which are incomplete, inaccurate, irregular, or otherwise not in compliance with these Official Rules, are void.
8) Release of Liability and Issues of Law: By participating in the Promotion you release the Sponsor, Facebook, Instagram, Twitter, Promotion Administrator, its affiliates, partners, subsidiaries, officers, directors, agents, employees and all Promotion Entities associated with the development and execution of this Promotion and their respective employees, officers, directors and shareholders ("Released Parties") from any and all liability with respect to and in any way arising from participating in this Promotion and/or acceptance or use of prize. You agree that Released Parties shall not be liable for personal injuries, death, damages, expenses or costs or losses of any kind resulting from participation or inability to participate in this Promotion or parts thereof or acceptance of, use of or inability to use a Prize or parts thereof including, without limitation, claims, suits, injuries, losses and damages related to personal injuries, death, damage to or destruction of property, rights of publicity or privacy, defamation or portrayal in a false light (whether intentional or unintentional), whether under a theory of contract, tort (including negligence), warranty or other theory.  Official Prize Winners agree to release the Released Parties from any and all liability and responsibility with respect to the prize (including any property loss, damage, personal injury or death).  Official Winners acknowledge the Promotion Entities have neither made nor are in any manner responsible for any warranty, representation or guarantee, expressed or implied, in fact or in law, related to the prize.
You also agree that the Released Parties are not responsible or liable for any injury or damage to your or third party's computer related to or resulting from the Promotion, the entries and/or its prizes. The Released Parties are not liable for damage to your or a third party's computer system (including, without limitation, any server failure or lost, delayed or corrupted data or other malfunction) due, either directly or indirectly, to participation in the Promotion or downloading of information in connection with the Promotion.
Released Parties shall not be liable to any Official Winner or any other person for failure to supply a prize or any part thereof, by reason of any acts of God, any action(s), regulation(s), order(s) or request(s) by any governmental or quasi-governmental entity (whether or not the action(s), regulation(s), order(s) or request(s) prove(s) to be invalid), equipment failure, terrorist acts, earthquake, war, fire, flood, explosion, unusually severe weather, hurricane, embargo, labor dispute or strike (whether legal or illegal), labor or material shortage, transportation interruption of any kind, work slow-down, civil disturbance, insurrection, riot, or any other cause beyond Released Parties' sole control.
All Federal, state and local laws and regulations are applicable. THE CALIFORNIA COURTS (STATE AND FEDERAL) SHALL HAVE SOLE JURISDICTION OF ANY CONTROVERSIES REGARDING THE PROMOTION AND THE LAWS OF THE STATE OF CALIFORNIA SHALL GOVERN THE PROMOTION. BY PARTICIPATING IN THIS PROMOTION YOU WAIVE ANY AND ALL OBJECTIONS TO JURISDICTION AND VENUE IN THOSE COURTS AND HEREBY SUBMIT TO THE JURISDICTION OF THOSE COURTS. The Promotion is void where restricted or prohibited by law.
9) Information about the Official Winners:  For a list of winners by mail send a self-addressed, postage affixed envelope for receipt by December 31, 2016 to: 12 Days of Pearls Winners List, PO Box 26597 Scottsdale, AZ 85255.
10) Sponsor by:
Musco Family Olive Co.
17950 Via Nicolo
Tracy, California 95377
11) Administrated by:  
Extra Mile Marketing
9443 E. Conquistadores Drive
Scottsdale, AZ 85255
Tags: #giftout.co,#giftout, #giftoutco, #giftoutsingapore, #giftoutusa, #giftoutmalaysia, #giftoutworldwide, #giftoutsweepstakes, Giftout Singapore, Giftout Malaysia, Giftout USA, Giftout Sweepstakes, Giftout Worldwide, Free Singapore, Singapore Free, Free Malaysia, Malaysia Free, USA Free, Free USA, Worldwide Free, Free Worldwide, Singapore freebies, Malaysia freebies, USA freebies, Singapore giveaway, Malaysia giveaway, FREE, #FREE, gifts, free gifts, free gift, contests, contest, #sweepstakes, #giftoutkorea, korea free, free korea, Giftout Korea, Giftout Exclusive, www.giftout.co, free korea, #Singapore, #Malaysia, #Korea, #USA, #Worldwide, @giftout, @Singapore, @Malaysia, @Korea, @Worldwide, #contests, #Contest, free everyday, free today, #sale, #marketing, #facebook, facebook, #tweets, tweets, #fb, fb, #twitter, twitter, Instagram, #instagram, #google, google, google+, #google+, linkedin, #linkedin, tumblr, #tumblr, youtube, #youtube, social media, Korea giveaway, worldwide giveaway, usa giveaway, malaysia gift, singapore gift, korea gift, usa gift, free gifts, free gift, video, #video, videos, #videos, #giftideas #giftcard, #follow, follow, competition, #competition, prize, #prize, #birthdaygifts, #giveawaysingapore, #giveawaymalaysia, #giveawaykorea, #giveawayusa, #giveawaycontest