Worldwide
Free Udemy Course on How to be an Expert in Pipe & Fittings for Oil & Gas career
Learn in detail every aspect of Pipe & Pipe Fittings used in process industry
Different types of Pipe, Pipe fittings (Elbow, Tee, reducers, Caps etc.), Flanges, Gaskets, Branch Connection, Bolting materials
Materials (Metal-Carbon Steel, Stainless Steel, Alloy Steel etc. Non-Metal- PVC/VCM, HDPE, GRE-GRP etc.)
Manufacturing methods
Heat treatment requirements
Inspection and Testing requirements (Non Destructive Testing, Mechanical & Chemical testing)
Dimensions & Markings requirements
Code & Standard used in piping
Piping a must know skill to work in Oil & Gas and similar Process Industries.
Oil and Gas industry is become a very competitive in the current time. Getting right mentor and right exposer within industry is difficult. With limited training budget spent by company on employee training, it is difficult to acquire the knowledge to success.
Knowing cross-functional skill give you an edge over others in your career success.
This course design based on years of field experience to ensure student will comprehend technical details easily and enjoy overall journey.
Content and Overview
With 2 hours of content including 30 lectures & 8 Quizzes, this course cover every aspect of Pipe, Pipe fittings, flanges, gaskets, branch connections and bolting material used in Process Piping.
This Course is divided in three parts.
1st part of the course covers fundamental of process industries. In this Part, you will learn about fundamental process piping. You will also learn about Code, Standard & Specification used in process industries.
2nd part cover various types of material used in process industries. In this part, you will learn about Metallic and Non-Metallic material used to manufacture pipe and other piping components.
3rd parts covers in detail about pipe and piping components used in Process piping. In this part we will learn about Industry terminology of Piping components, types of industrial material grade used in manufacturing and entire manufacturing process of these components. You will learn about different manufacturing methods, Heat treatment requirements, Destructive and Non-destructive testing, Visual & Dimensional inspection and Product marking requirements.
Upon completion, students will be able to use this knowledge direct on their Job.
What are the requirements?
A familiarity about Oil & Gas or Process Industries
What am I going to get from this course?
Over 31 lectures and 1.5 hours of content!
Pipe & Pipe Fittings used in Oil & Gas and any other Process Industries
Manufacturing methods and Materials of Pipe & Fittings
Inspection and testing requirements of Pipe & Fittings
Code and Standard used for Pipe & Fittings
At the end of the Course student will get through knowledge Pipe & Various Fittings used in Process Piping
What is the target audience?
Student who want career in Oil & Gas or other process Industries
Professional who want to change career in Oil & Gas or other process Industries
Construction professional working as Pipe fitter, welder, fabricator, piping supervisor etc.
Professional working in same industry but in different discipline such as operation, maintanance, instrument, electrical, administrative or any other field
Get your Free Udemy Course on How to be an Expert in Pipe & Fittings for Oil & Gas career by clicking on this promo code:
https://www.udemy.com/process-pipe-fittings-for-oil-gas-career/?couponCode=Free2Friend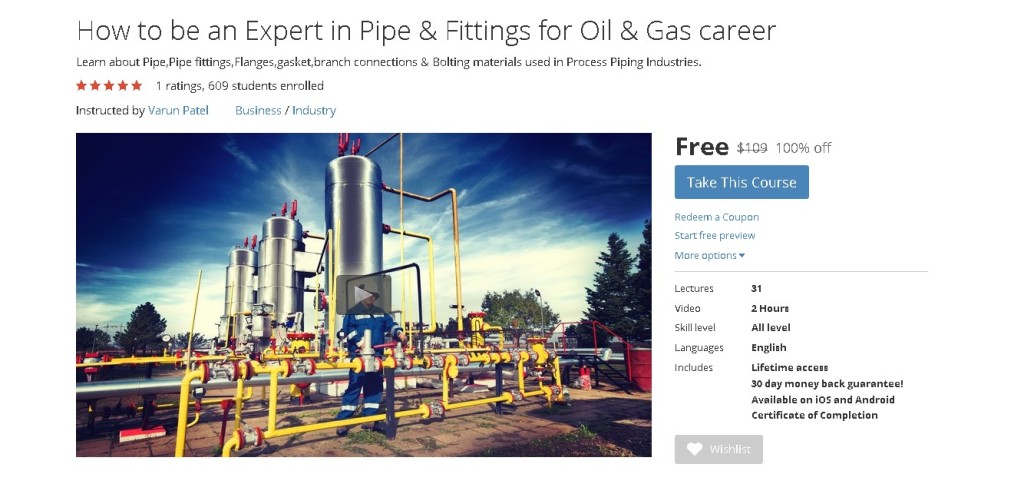 Tags: #crypto, #cryptocurrency, #bitcoin, #giftout.co,#giftout, #giftoutco, #giftoutsingapore, #giftoutusa, #giftoutmalaysia, #giftoutworldwide, #giftoutsweepstakes, Giftout Singapore, Giftout Malaysia, Giftout USA, Giftout Sweepstakes, Giftout Worldwide, Free Singapore, Singapore Free, Free Malaysia, Malaysia Free, USA Free, Free USA, Worldwide Free, Free Worldwide, Singapore freebies, Malaysia freebies, USA freebies, Singapore giveaway, Malaysia giveaway, FREE, #FREE, gifts, free gifts, free gift, contests, contest, #sweepstakes, #giftoutkorea, korea free, free korea, Giftout Korea, Giftout Exclusive, www.giftout.co, free korea, #Singapore, #Malaysia, #Korea, #USA, #Worldwide, @giftout, @Singapore, @Malaysia, @Korea, @Worldwide, #contests, #Contest, free everyday, free today, #sale, #marketing, #facebook, facebook, #tweets, tweets, #fb, fb, #twitter, twitter, Instagram, #instagram, #google, google, google+, #google+, linkedin, #linkedin, tumblr, #tumblr, youtube, #youtube, social media, Korea giveaway, worldwide giveaway, usa giveaway, malaysia gift, singapore gift, korea gift, usa gift, free gifts, free gift, video, #video, videos, #videos, #giftideas #giftcard, #follow, follow, competition, #competition, prize, #prize, #birthdaygifts, #giveawaysingapore, #giveawaymalaysia, #giveawaykorea, #giveawayusa, #giveawaycontest
Note: All giveaways are by third parties unless otherwise stated.