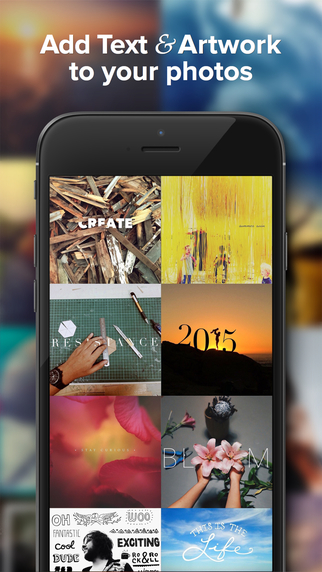 Worldwide
Free iOS App: Over — Creative Typography, Graphic Design & Photo Editing
JOIN MILLIONS AND AWAKEN YOUR CREATIVE SUPERPOWERS
Design a greeting card — Visualize an idea — Promote an event — Market your real estate — Layout a business card — Sell stuff on craigslist — Joke around — Make a meme — Caption your pets — Comment on politics — Review a meal — Tell a story — Share your love — Express your feelings — Organize your thoughts — Store measurements — Keep ingredients — Study for a test — Remember details — Track your progress — Celebrate a victory! — Encourage a friend — Give directions — Inspire your fans — Motivate your team — Quote famous people
~~~
TO INFINITY & BEYOND: supercharge your photos with a spectacular collection of 300+ fonts, 800+ illustrations AND more new content all the time.
NO PHOTO? NO PROBLEM! we've partnered with two of the world's best photo sources to put fresh daily images in your hand for FREE. Just look for Unsplash & Pixabay under Add-Ons.
PRESS PAUSE WITH PROJECTS: For the A.D.D. in all of us; start a ton of projects and finish them (or not) later! You can rename, duplicate and delete.
COLLECT NEW ARTWORK EVERYDAY: Check back everyday to collect FREE artwork from amazing artists.
A PERFECT COLOR MATCH: use the color sampler and grab perfect matching colors from any pixel on your canvas.
SWIPE TO FIND YOUR TYPE: glide through hundreds of fonts and then organize your favorites.
ANY FONT, ANYWHERE: install your own fonts, just find it on the Internet, "Open in Over" and voila.
ADVERTISEMENT FREE: enjoy your creative experience without any outside adverts.
GO UNDER WITH OVER: activate the FREE Blend Add-On and precisely hide parts of your text & artwork, giving you an infinite number of effects.
MAKE THAT TEXT POP: activate the FREE Drop Shadow Add-On and create amazing text effects using shadows that lift the text & artwork right off the photo.
GENTLE ADJUSTMENTS: using the nudge tool you can position any object with pixel perfection.
CROP ME MAYBE: find the perfect crop for Facebook, Pinterest, Twitter, Instagram, iPhone, Apple Watch and more!
How People Are Using Over:
—Social media posts
—Birthday cards
—Inspirational quotes
—Event invites
—Business cards
—Presentation slides
—Logos & watermarks
—Album covers
—Apple Watch backgrounds
—iPhone wallpapers
—Pinterest posts
—Recipes
—Instructions
~~~
"We designed Over like a guitar, an instrument you can have fun with AND make masterpieces." —Aaron Marshall, CEO of Over
Enjoy!
Tags: #giftout.co,#giftout, #giftoutco, #giftoutsingapore, #giftoutusa, #giftoutmalaysia, #giftoutworldwide, #giftoutsweepstakes, Giftout Singapore, Giftout Malaysia, Giftout USA, Giftout Sweepstakes, Giftout Worldwide, Free Singapore, Singapore Free, Free Malaysia, Malaysia Free, USA Free, Free USA, Worldwide Free, Free Worldwide, Singapore freebies, Malaysia freebies, USA freebies, Singapore giveaway, Malaysia giveaway, FREE, #FREE, gifts, free gifts, free gift, contests, contest, #sweepstakes, #giftoutkorea, korea free, free korea, Giftout Korea, Giftout Exclusive, www.giftout.co, free korea, #Singapore, #Malaysia, #Korea, #USA, #Worldwide, @giftout, @Singapore, @Malaysia, @Korea, @Worldwide, #contests, #Contest, free everyday, free today, #sale, #marketing, #facebook, facebook, #tweets, tweets, #fb, fb, #twitter, twitter, Instagram, #instagram, #google, google, google+, #google+, linkedin, #linkedin, tumblr, #tumblr, youtube, #youtube, social media, Korea giveaway, worldwide giveaway, usa giveaway, malaysia gift, singapore gift, korea gift, usa gift, free gifts, free gift, video, #video, videos, #videos, #giftideas #giftcard, #follow, follow, competition, #competition, prize, #prize, #birthdaygifts, #giveawaysingapore, #giveawaymalaysia, #giveawaykorea, #giveawayusa, #giveawaycontest