Worldwide
Free eBook at Amazon: Google Adwords – An Introduction: The Ultimate Guide To The Many Opportunities for the Pay Per Click Professional
There is no time like the present to get into the Pay Per Click game.
Whether you aspire to become a Search Engine Marketing PPC Professional or just want to learn more about Google AdWords Pay Per Click advertising to use it in your own business. PPC advertising can drive some really great – really targeted traffic to practically any website AND you can do it fairly inexpensively if you learn how to do it right.
Google AdWords is most certainly the best place to start, as practically every other pay per click platform has in some form or another modeled its foundation around the basic AdWords type PPC concepts.
What this book is about:
Google AdWords – An Introduction, is a guide for you to run through and see if you think that Google AdWords is something you want to learn more about…
This book is for you if:
You would like to see at a very high level, how you can use PPC / Google AdWords to drive highly targeted traffic to ANY website.
or
You're thinking about maybe becoming a Certified Google AdWords Professional and taking on clients of your own, and running their pay-per-click campaigns for them and GET PAID.
or
You may be thinking about working directly for a business or advertising agency and running PPC campaigns for them as a Search Engine Marketing – PPC Professional.
Becoming a Certified Google AdWords Professional opens many, many doors in the world of online marketing. I'll show you how to become Google Certified and get on the fast track to becoming a Search Engine Marketing – PPC Professional that is in extremely high demand in the digital marketing space today.
This book may also be for you if:
You find yourself at a crossroads and:
1 – You're stuck in a dead-end job: customer service, sales or otherwise and you're wanting to improve your job status, career choices and your PAY.
2 – You're thinking about becoming an AdWords Certified Consultant serving your own clients as a consultant or at an agency.
3 – You're an entrepreneur, coach or business owner and you want to learn more about paid media buying to market yourself and your business online.
This book is intended to help you to get a high level vision and overview of the Google AdWords & Pay Per Click Advertising.
Whatever your current situation, this book will give you a taste of what it's like inside the world of Pay Per Click Advertising. After reading through once or twice… YOU WILL KNOW IF PPC is right for you at this point and time in your business/career/life.
What this book is NOT about.
This book is not about the latest and greatest tips and tricks for using Google AdWords… I do offer extensive AdWords PPC training through my web site: http://ppcequation.com – Both free and paid training can be found there. I just want to be 100% transparent with you and let you know that this book is not going to make you a PPC expert in one read. It's simply an introduction to the industry, either for the business owner / entrepreneur wanting to drive more traffic to his offerings or for someone thinking about becoming a Pay Per Click Professional as a career.
Take a look inside at the table of contents before you order to see all that's covered…
I guarantee you will find some great takeaways… gold nuggets and bonuses within.
So please: Read, Relax and Enjoy!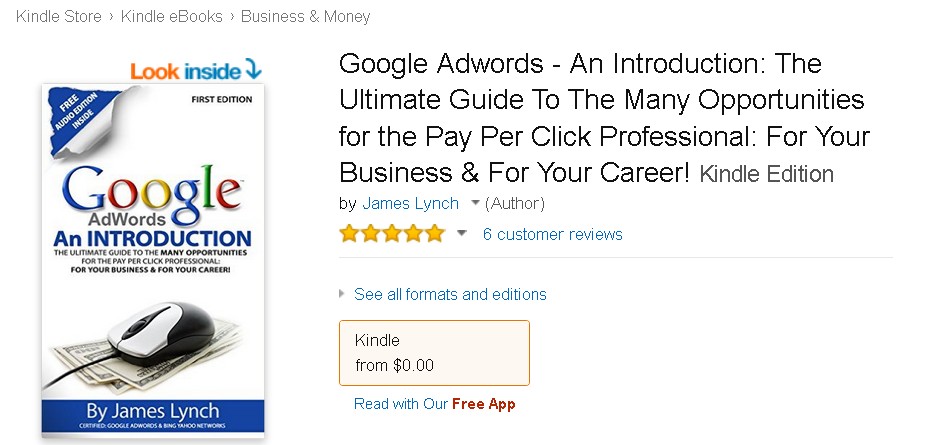 Tags: #crypto, #cryptocurrency, #bitcoin, #giftout.co,#giftout, #giftoutco, #giftoutsingapore, #giftoutusa, #giftoutmalaysia, #giftoutworldwide, #giftoutsweepstakes, Giftout Singapore, Giftout Malaysia, Giftout USA, Giftout Sweepstakes, Giftout Worldwide, Free Singapore, Singapore Free, Free Malaysia, Malaysia Free, USA Free, Free USA, Worldwide Free, Free Worldwide, Singapore freebies, Malaysia freebies, USA freebies, Singapore giveaway, Malaysia giveaway, FREE, #FREE, gifts, free gifts, free gift, contests, contest, #sweepstakes, #giftoutkorea, korea free, free korea, Giftout Korea, Giftout Exclusive, www.giftout.co, free korea, #Singapore, #Malaysia, #Korea, #USA, #Worldwide, @giftout, @Singapore, @Malaysia, @Korea, @Worldwide, #contests, #Contest, free everyday, free today, #sale, #marketing, #facebook, facebook, #tweets, tweets, #fb, fb, #twitter, twitter, Instagram, #instagram, #google, google, google+, #google+, linkedin, #linkedin, tumblr, #tumblr, youtube, #youtube, social media, Korea giveaway, worldwide giveaway, usa giveaway, malaysia gift, singapore gift, korea gift, usa gift, free gifts, free gift, video, #video, videos, #videos, #giftideas #giftcard, #follow, follow, competition, #competition, prize, #prize, #birthdaygifts, #giveawaysingapore, #giveawaymalaysia, #giveawaykorea, #giveawayusa, #giveawaycontest
Note: All giveaways are by third parties unless otherwise stated.