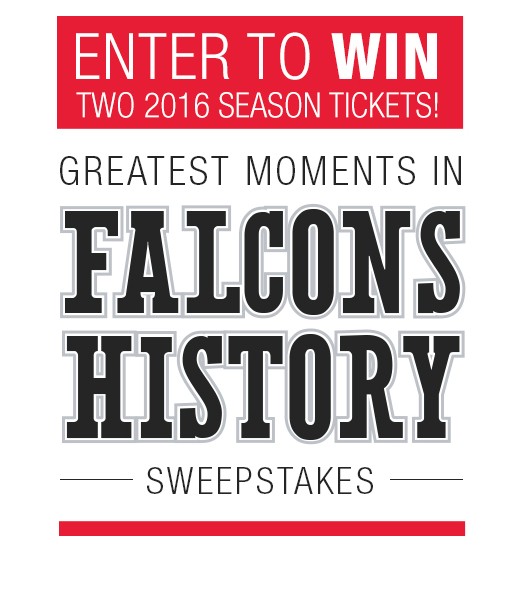 USA
Equifax Presents "Greatest Moments in Falcons History Sweepstakes"
Enter to win two 2016 Season Tickets!
Official Sweepstakes Rules
NO PURCHASE NECESSARY TO ENTER OR TO WIN. A purchase will not increase chances of winning a prize.
Sweepstakes Period: The "Greatest Moments in Falcons History Sweepstakes" (the "Sweepstakes") begins at 3:00:00 PM (ET) on September 8, 2015 and ends at 2:59:59 PM (ET) on January 5, 2016 (the "Sweepstakes Period").
How To Enter: During the Sweepstakes Period, visit the "Greatest Moments in Falcons History Sweepstakes" promotional web page at www.Equifax.com/Falcons (the "Website"). At the Website, you will be required to enter your name, city, state, telephone number, age and email address to register for the Sweepstakes. Limit one (1) entry per person for the Sweepstakes Period. Subsequent entries received during the Sweepstakes Period from any person after the first entry received from that person, or email address will be void. Entries generated by script, macro, agencies or robotic, repetitive, automatic, programmed or other automated means will be void.
Eligibility: Sweepstakes open to legal residents of the states of Georgia or Alabama who are 18 years of age or older as of the date of entry. Employees of Equifax Consumer Services LLC (the "Sponsor"), The Atlanta Falcons Football Club, and Cottonwood Enterprises (the "Administrator") and each of their respective parent companies, subsidiaries, affiliates, divisions, advertising and promotion agencies, individuals engaged in the development, production or distribution of materials for this Sweepstakes and the immediate families of each, or persons domiciled in the same household of such employees are not eligible. Sweepstakes is subject to all applicable federal, state and local laws. By entering the Sweepstakes, entrants agree to be bound by these Official Sweepstakes Rules and the decisions of the Sponsor, Administrator and the Atlanta Falcons Football Club, which shall be final and binding in all respects. Void outside the states of GA and AL, and where otherwise prohibited.
Conditions of Entry: All entries become the property of Sponsor and the Atlanta Falcons Football Club and will not be acknowledged or returned. By entering, entrants acknowledge compliance with these Official Rules, including all eligibility requirements. By participating, entrants agree to release Equifax Consumer Services LLC, The Atlanta Falcons Football Club, Cottonwood Enterprises and their respective officers, directors, employees, agents or representatives (collectively, "Released Parties") from and against any and all claims, demands, losses and liabilities of any nature whatsoever, which entrant may now or hereafter be entitled to assert, including but not limited to, any death, injury, loss of enjoyment, damage to computer equipment, or other harm or loss of any nature whatsoever caused or contributed to by participation in the Sweepstakes, the prize awarded in the Sweepstakes and/or in connection with the awarding, receipt and use or misuse of a prize. Released Parties are not responsible for misdirected, late, lost, delayed, inaccurate, damaged, garbled, incomplete, or undelivered entries or any combination thereof, for whatever reason, for lost, interrupted or unavailable network, wireless service provider, cable, satellite, Internet Service Provider (ISP) or other connections, or for errors, omissions, interruptions, deletions, defects, phone transmissions or delayed transmissions or in operations or transmission of information, in each case whether arising by the way of technical or other failures or malfunctions of computer hardware, software, communications devices, or transmission lines, or data corruption, theft, destruction, unauthorized access to or alteration of entry materials, loss or otherwise and any mechanical, electronic, network, computer, printing, typographical, human or other error relating to or in connection with the Sweepstakes, including, without limitation, errors which may occur in connection with the administration of the Sweepstakes, the processing of entries, the announcement of prizes or in any Sweepstakes-related materials. Sponsor reserves the right to cancel or modify the Sweepstakes if fraud, technical failures or any other factor beyond their reasonable control impairs the integrity of the Sweepstakes, as determined by Sponsor in its sole discretion. In such event, Sponsor reserves the right to award the prize via random drawing from among the eligible entries received up to the time of the action taken by the Sponsor. Sponsor reserves the right, in its sole discretion, to disqualify any individual it finds to be tampering with the entry process or the operation of this Sweepstakes or to be acting in violation of these Official Rules or any other promotion, or in an unsportsmanlike or disruptive manner. Any attempt by any person to deliberately undermine the legitimate operation of the Sweepstakes may be a violation of law, and, should such an attempt be made, Sponsor reserves the right to seek damages and other remedies (including attorneys' fees) from any such person to the fullest extent permitted by law. Sponsor's failure to enforce any term of these Official Rules shall not constitute a waiver of that provision.
Selection of Winner: On or around January 11, 2016, a random drawing will be conducted by an independent sweepstakes administrator from among all valid entries received during the Sweepstakes Period. Odds of winning the Grand Prize depend upon the total number of eligible entries received during the Sweepstakes Period. The potential prize winner will be notified by email and/or phone call within twenty-four (24) hours of the random drawing. Potential prize winner will be required to reply to the prize notification attempt within twenty-four (24) hours of attempted notification or potential prize winner will be disqualified and an alternate potential winner will be selected at the sole discretion of the Sponsor. Potential prize winner will be required to sign an Affidavit of Eligibility/Release of Liability/Publicity and Advertising Consent and Release (except where prohibited by law), a W-9 form, and such other documents reasonably required by Sponsor. All such documents must be signed and returned within five (5) days of prize notification or prize will be forfeited and an alternate winner may be selected provided there is sufficient time remaining to award the prize. Return of any prize notification as undeliverable will result in disqualification. Potential winner is subject to verification before the prize will be awarded. In the event that a potential winner is disqualified for any reason, an alternate winner may be selected in a random drawing from all eligible entries received during the Sweepstakes Period, at the sole discretion of the Sponsor provided there is sufficient time remaining to award the prize. The Sweepstakes participant is solely responsible for entering the Sweepstakes during the Sweepstakes Period and properly claiming a prize if selected as a winner. The reporting and payment of any tax liabilities (federal, state and local) incurred by a prize winner as a result of this Sweepstakes are the sole responsibility of the winner.
Prize & Approximate Retail Value ("ARV"): One (1) Grand Prize: Two (2) 2016 Atlanta Falcons Season Tickets: Prize consists of two (2) "Lower Level Bowl" tickets for each regular season home game of the Atlanta Falcons NFL Football team for the 2016 season. Approximate retail value of each Prize Package is $2,300. Tickets are subject to the terms and conditions associated with their use; and will govern in the event a game is not played due to an act of God, an act of terrorism, civil disturbance or other reason. Winner and his/her guest must comply with applicable stadium regulations in connection with the prize. Tickets may not be resold or offered for resale. Any such resale may result in disqualification and prize forfeiture. Prize does not include transportation, souvenirs, meals, incidentals or any other expenses associated with attending the Atlanta Falcons Football game. Prize winner is responsible for all expenses, fees and taxes not expressly included in the prize package. Once prize elements are delivered to prize winner's address — as verified by delivery courier tracking system — the prize is considered "awarded." Unclaimed prize will not be awarded. Winner will receive a 1099 tax form for the approximate retail value of the prize.
Conditions of Participation & Certain Restrictions: No cash equivalents, substitutions or transfer of prize will be allowed except that Sponsor reserves the right to substitute a prize of equal or greater value if stated prize is unavailable for any reason. A participant who is notified that he or she has won is a potential winner until Sponsor determines, in its sole discretion, that the participant is eligible to win in accordance with these Official Rules.
Privacy: By entering, entrants specifically acknowledge and agree that Sponsor may utilize information obtained from entrant in order to contact entrant and/or to offer their products or services or for other promotional purposes, including online announcements and as otherwise permitted in their privacy policy. For further information, please refer to the Privacy Policy at http://www.equifax.com/privacy/equifax-personal-products. By accepting a prize, entrant/winner specifically acknowledges and agrees that Sponsor and/or its designees are permitted to use the winner's name, address (city and state), photograph, testimonial or other likeness and/or prize information for promotional, advertising and/or publicity purposes in any media, now or hereafter known throughout the world in perpetuity, without compensation or notice to, or further consent of, to the winner to the extent permitted by law.
Governing Law: This Sweepstakes and these Official Sweepstakes Rules shall be governed by and construed in accordance with the laws of the State of Georgia without reference to conflicts of law principles. All actions, proceedings, or litigation relating hereto will be instituted and prosecuted solely within the City of Atlanta and County of Fulton, Georgia.
Winner's List: For the name and city/state of residence of the Grand Prize winner send a stamped, selfaddressed envelope to "Equifax Falcons Winner's List Request," PO Box 11507, Bozeman, MT 59719- 1507 to be received by February 12, 2016.
Sponsor: Equifax Consumer Services, LLC, 1550 Peachtree Street, NW, Atlanta, GA 30309.
Tags: #giftout.co,#giftout, #giftoutco, #giftoutsingapore, #giftoutusa, #giftoutmalaysia, #giftoutworldwide, #giftoutsweepstakes, Giftout Singapore, Giftout Malaysia, Giftout USA, Giftout Sweepstakes, Giftout Worldwide, Free Singapore, Singapore Free, Free Malaysia, Malaysia Free, USA Free, Free USA, Worldwide Free, Free Worldwide, Singapore freebies, Malaysia freebies, USA freebies, Singapore giveaway, Malaysia giveaway, FREE, #FREE, gifts, free gifts, free gift, contests, contest, #sweepstakes, #giftoutkorea, korea free, free korea, Giftout Korea, Giftout Exclusive, www.giftout.co, free korea, #Singapore, #Malaysia, #Korea, #USA, #Worldwide, @giftout, @Singapore, @Malaysia, @Korea, @Worldwide, #contests, #Contest, free everyday, free today, #sale, #marketing, #facebook, facebook, #tweets, tweets, #fb, fb, #twitter, twitter, Instagram, #instagram, #google, google, google+, #google+, linkedin, #linkedin, tumblr, #tumblr, youtube, #youtube, social media, Korea giveaway, worldwide giveaway, usa giveaway, malaysia gift, singapore gift, korea gift, usa gift, free gifts, free gift, video, #video, videos, #videos, #giftideas #giftcard, #follow, follow, competition, #competition, prize, #prize, #birthdaygifts, #giveawaysingapore, #giveawaymalaysia, #giveawaykorea, #giveawayusa, #giveawaycontest