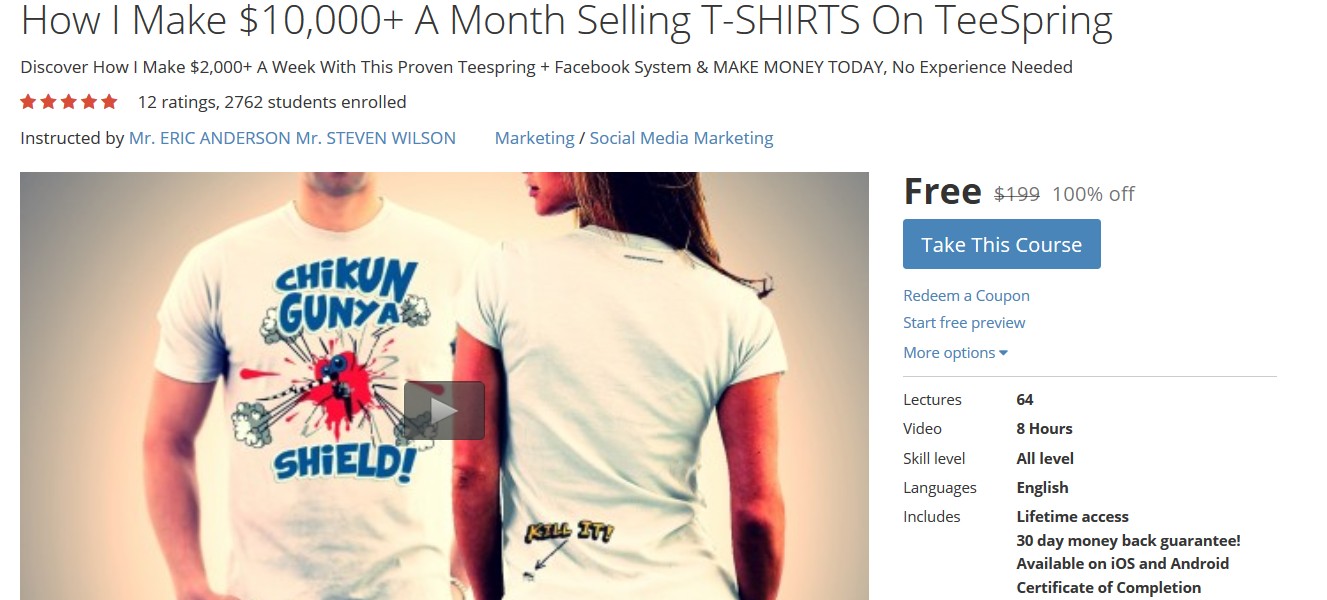 Worldwide
Free #Udemy Course on How I Make $10,000+ A Month Selling T-SHIRTS On TeeSpring
Are You Struggling With TeeSpring? Are You Tired of Investing on Facebook and Getting Nothing Out of It? Do You Need Guidance Setting Up Your TeeSpring Campaigns? Well I'm Going To Show You How To Drive Tons of Targeted Traffic And Finally Make Money With TeeSpring!
Dear Friend,
Have You Tried Countless Times To Set Up a TeeSpring Campaign Using Facebook ADS But Keep Finding That Your Shirts Are Getting Absolutely ZERO SALES? Have You Tried Doing Exactly What Others Are Doing But You Still Continue To Fail For Some Reason?
If This Is You Then Continue To Read: I Have Set Up Many Successful TeeSpring Campaigns Using The Facebook ADS Platform And I Am Wanting To Show You Exactly How I Do Everything Without Leaving Anything Out. You Will Learn Everything That I Do In My Process From Picking Niches, Designing T-shirts, Creating Your Facebook Page To Run Your ADS And Also How To Set Up Your ADS That Will Guarantee Great Click Through Rates. I Will Leave Absolutely Nothing Out And I Will Show You Everything That I Do Which Has Made Me So Successful With TeeSpring.
Let's Take a Look at Some of The Other Things That We've Covered in This Powerful System.
Step-by-Step Guidance Setting up Your TeeSpring Campaigns From The Ground UP.
60+ Videos Going in Detail on How I Set up Every Campaign I Ever Launch (Including My Successful Ones)
Detailed Facebook ADS Video Showing You How I set up My ADS for My Own Personal TeeSpring Campaigns.
Design Videos Showing You Exactly How I Design My Tee's (I Even Give You the Design Template .PSD Absolutely Free to Save You Time)
How To ALWAYS Find the Best Facebook "INTERESTS"
How To Find Success Even if You're a Newbie
How To Identify the BUYERS of Your Audience
How To Average SUPER high CTRs (10% – 30%)
How To Instantly Gain The Trust of Cold Traffic
How To PROPERLY Relaunch Winning Shirts
How To NEVER Run out of T-shirt Ideas Again
How To Launch 10+ Campaigns Per Day
How To CRUSH IT with Audience Intersect
& Much More!
No Experience Needed :- Even if you've never tipped a single campaign, T-Shirt Cheetah is the fast-track road to success. It doesn't matter if you're a pro or if you're starting from scratch!
Start With Small Budget :- I don't teach the "spend $20" budget plan that a lot of others do. This system makes it extremely easy to succeed BIG without the need of a BIG budget!
No Fan pages Needed :- You haven't built any Fan pages? No problem, this is a "start-from-scratch" system. You don't need to come into this with a single fan, I show you everything!
Blazing Fast System :- T-Shirt Cash Course focuses only on the essential parts of TeeSpring success. By cutting out the 'fluff' you can start from scratch and start seeing results within hours!
How To Finally Make TeeSpring Cash Even If You've Failed In The Past :-
Use Our Ready-Made Designs That Are Proven to SELL LIKE CRAZY
Tweak your designs using free software provided for both PC and Mac. NO Photoshop
Copy our TOP SECRET Traffic Generation Strategies.
Reinvest and Scale With Our PROVEN Facebook Ads "1 2 3" Method.
Get Ready to See the Cash hit Your Paypal and Bank Account Everyday!
We Bet You Could Create 10+ Profitable TeeSpring Campaign This Month Even If You Are Struggling!
We Live, Eat, and Breathe Facebook Marketing. We're Known for our Creative FREE and Paid Traffic Generation and Insane Ability to Scale up Fast. Today, We Share Exactly How we are Making 6-Figures a Month by Selling Ugly T-shirts Through TeeSpring, and Give You The Very Limited Opportunity to Steal this Secret Designs and Methods.
A Short, Important, Open Letter From Tanner Larsson :-
Maybe You've Heard of How Some Marketers Like us Have Quickly Added an Extra ZERO to Their Weekly Income Thanks to TeeSpring. How Can Selling Silly Little T-shirts be SUCH a Moneymaker? Remember the Facts: Everyone Buys T-shirts, Hoodies, and Other Apparel. We Saw Other Marketers Selling Boatloads of Shirts With no Upfront Cost, and we Tried our Hand at it. We Tested, Experimented, and Became Obsessed with the idea of Having 6-figure Months JUST From Selling Shirts.
NOW We Are Going To Admit Something Most Marketer Never Do :-
We Had a Head Start, We Already Knew a Lot About Facebook Marketing From Other Ventures, and Applied it to TeeSpring Sales. So we Started Giving that Head Start to our Students…So what We're Going to Do today is GIVE YOU THE EXACT SAME HEAD START And then some…Hell, we're going to take you to the finish line. .. You just need to grab TeeCash and Cross the Finish Line.
So Stop, Drop, and Pay Close Attention Right Now :-
Because We're Going no Holds Barred and Revealing how we Consistently Pummel TeeSpring to the Ground……and Bank a Minimum of 4-6 Figures Each and Every Month. It's, to Speak Plainly, The Easiest Money We've Ever Made in our Life Period.
Here's Is Why You Haven't Had Your BIG Pay Day Like This On TeeSpring Yet :-
If You're Familiar With TeeSpring Marketing, You May Have Thought: "There's so much Fluff in The Way." If you've Tried to Sell T-shirts on Teespring Before…OR if you've Gotten Tripped up in all of the Steps, and Haven't Managed to Get a Campaign Live Yet.
OR If You're Only Selling 10 — 20 Shirts Per Campaign :-
Forking Over Your Cash for Designs that Don't Sell.
Wasting Time WAITING on a Slow Designer for Those Designs.
Trying to Sell Your Shirt on Facebook, But Spending WAY TOO MUCH on ADS.
Getting Your Ads Shut Down and Disapproved by Facebook.
Selling 1 or 2 Shirts, and Staying Stuck There With no More Sales.
Meeting only Small Campaign Goals, and not Having any "blockbuster" Campaigns That sell 100 Shirts or More.
We Are Going To Flip The Script For You So You're The One Who Get Paid :-
Inside Tee Cash Course, you'll get the exact "head start" we had, and you'll get all of the designs that sell like crazy in ANY niche. You'll be taken to the TeeSpring finish line, including.
OUR TOP Secret Design Templates :- Unlike other "done-for-you" design packages out there, this is the only one that requires ZERO graphical editing on your part. No Photoshop skills required. You'll pop these high quality designs right into the Teespring editor, add text the way we show you, and click "done".
If you've been paying $5 after $5 after $5 for mediocre designs, or shelled out the big bucks on a decent designer – open your wallet up and put your money back inside it, because you're done with all of that spending.
Our Facebook Marketing Head Start #1 :- Fast FREE and Paid Traffic Today: You'll discover how we've quietly been driving instant traffic on Facebook WITHOUT a single fan on our pages.
**CASE STUDY ALERT** Watch over our shoulders as we show you case studies you can copy and profit with right away!
Head Start #2 – The 1, 2, 3 Method To 400% ROI :- Did you know that 95% of advertisers on Facebook do NOT see a return on their ad spend? Hundreds, or even thousands, of dollars can be wasted on "testing". We'll show you how to be 100% certain you have a profitable campaign by risking no more than $5. Then, we'll show you how to scale it up for MASSIVE returns.
100% In Line With Facebook TOS (Consistent and Reliable Results) :- No short term "tricks" or "hacks" that have been slapped or are about to be slapped… This is a stable, recurring, and reliable model that you'll be able to apply to hundreds of niches (we'll show you!).
Getting Your First Sales, And Scaling Like A Beast :- If you can sell 1 shirt, you can sell 100 — knowing HOW is what separates the big fish from the little ones. No one is revealing exactly how to do it, until now. Get Tee Cash Course and be among the first to know the step-by-step secrets to 100+ campaigns… Watch over our shoulder as we set up several at one time!
Finally, The Change You've Been Waiting For…
When I first got into Teespring, I thought it was going to be a piece of cake. Boy, was I wrong.
I blew threw a ton of money before coming close to figuring things out. The "techniques" that were out at the time just didn't work for me. It wasn't until I started creating my own systems that I began seeing success.
I pioneered a lot of things in this Teespring world. Your favorite guru probably uses the copy I created. That last Teespring course you bought probably had pieces to it's system that came directly from one of my techniques.
I don't say this to brag or sound "conceited" or anything(even though I probably do), because I've also learned a ton from other marketers, I'm just establishing the fact that I've been around for a while, I know what I'm talking about and I've made my mark on the Teespring Marketplace.
T-Shirt Cheetah is my all-time favorite system that I've created. It is the only system that I use today. It is an extremely effective way to go about launching campaigns every day. I average 10 new ideas every single day while implementing this system. Hence the name, T-Shirt Cash Course is FAST.
I don't waste time on little things that are not truly essential. Some things are left out, only to make the system work better. You DON'T need to know EVERYTHING about Teespring before you see success. T-Shirt Cheetah shows you how to master the most important parts of selling t-shirts with the help of Audience Intersect.
With the power of Audience Intersect, there should be way more success stories. The thing is magical. But, if you don't really know how to use it, it can just be another waste of space. When Audience Intersect came out, I put my head down and studied and tested the crap out of it for weeks. THIS system is what came out of it.
I'm so confident in this system that inside I challenge the members to use the system I lay out to shoot for $100k in 2 weeks. And although I know most people won't hit that goal, I am 100% positive a ton of people will end up having the best 2 weeks of their lives.
When I first got started, Teespring WASN'T easy at all. But it's probably the same story for absolutely everyone. Now, with the knowledge I've gained, Audience Intersect and this T-Shirt Cash system, Teespring is really getting pretty easy and predictable now. This is all you need. This and simply, to do it.
If You Like Systems That Really Make Money, This Is For You. Are You Ready?
What are the requirements?
Watch all of the videos and complete all of the exercises in this course for best results.
Many individuals never take action after completing the training, so the results shown are not typical. Your personal results are a direct reflection of the amount of effort you put forth. So make sure you're taking action!
Computer, Internet Connection
To be successful with this course all you need to do is follow each step outlined and take action Willingness to Make Money
Please ask me inside the member's area for any help / assistance that you may need. I am here to help and support you!
To be successful with this course you should expect to work 30 – 60 minutes a day
Need to be interested in T-Shirt Marketing
The desire to learn more about how T-Shirt Marketing Works
Some sort of budget for Marketing Online
Action taker and the desire to be successful
What am I going to get from this course?
Over 64 lectures and 7.5 hours of content!
In this course you will learn the exact formula you will use to drive laser-targeted traffic to your TeeSpring links and offers!
You will discover the step-by-step process used to set up this Great known Facebook traffic system!
You will learn solid fundamentals for how to do T-Shirt Marketing
You will be able to get started with T-Shirt Marketing
You will know how to make money with T-Shirt Marketing
Learn T-Shirt Marketing strategies you can use to begin making money today
Research and Find Good T-Shirt Niche
Brainstorm and perform keyword research
Convert more T-Shirt marketing sales
Build yourself up as an authority in your topic/niche
Start an T-Shirt Marketing business to build passive income.
Learn how to make money from home by marketing T-Shirts om Facebook
Discover ways to make money as a T-Shirt Marketer without a website.
How to ALWAYS find the best FB "interests"
How to find success even if you're a newbie
How to identify the BUYERS of your audience
How to average SUPER high CTRs (10% – 30%)
How to instantly gain the trust of cold traffic
How to PROPERLY relaunch winning shirts
How to NEVER run out of t-shirt ideas again
How to launch 10+ campaigns per day
How to CRUSH IT with Audience Intersect
& Much More!
What is the target audience?
I Take You Through EVERYTHING From Scratch – If You Have Never Touched A Computer in Your Life That is Not a Problem, You Can Copy Exactly What i Do Click For Click Through The Video Tutorials! I Spoon Feed You All The Way Through To Ensure You Can Not Fail!
Anyone Who Wants To Easily Make Money Online, With No Outlay!!!
Anyone Into Internet Marketing!!!
Those Interested In T-Shirt Marketing
Those Who Have A Business And Want To Achieve Greater Visibility And Sales Through T-Shirt Marketing
People That Want To Make Money With Teespring
People Who LIKE T-Shirt Marketing or Teesring
People From Any Country!
People Of Any Age Or Ability!
No Experience Needed!!!
The Course is Designed for Beginners and Seasoned Professional Looking to Make Money Online
You do not need any special abilities or skills to learn and master this home-based business
Any person, of any age can learn and succeed at this work from home business
To be successful with this course you should expect to work 30 – 60 minutes a day
Get your Free Udemy Course on How I Make $10,000+ A Month Selling T-SHIRTS On TeeSpring by clicking on this promo code.
Tags: #giftout.co,#giftout, #giftoutco, #giftoutsingapore, #giftoutusa, #giftoutmalaysia, #giftoutworldwide, #giftoutsweepstakes, Giftout Singapore, Giftout Malaysia, Giftout USA, Giftout Sweepstakes, Giftout Worldwide, Free Singapore, Singapore Free, Free Malaysia, Malaysia Free, USA Free, Free USA, Worldwide Free, Free Worldwide, Singapore freebies, Malaysia freebies, USA freebies, Singapore giveaway, Malaysia giveaway, FREE, #FREE, gifts, free gifts, free gift, contests, contest, #sweepstakes, #giftoutkorea, korea free, free korea, Giftout Korea, Giftout Exclusive, www.giftout.co, free korea, #Singapore, #Malaysia, #Korea, #USA, #Worldwide, @giftout, @Singapore, @Malaysia, @Korea, @Worldwide, #contests, #Contest, free everyday, free today, #sale, #marketing, #facebook, facebook, #tweets, tweets, #fb, fb, #twitter, twitter, Instagram, #instagram, #google, google, google+, #google+, linkedin, #linkedin, tumblr, #tumblr, youtube, #youtube, social media, Korea giveaway, worldwide giveaway, usa giveaway, malaysia gift, singapore gift, korea gift, usa gift, free gifts, free gift, video, #video, videos, #videos, #giftideas #giftcard, #follow, follow, competition, #competition, prize, #prize, #birthdaygifts, #giveawaysingapore, #giveawaymalaysia, #giveawaykorea, #giveawayusa, #giveawaycontest