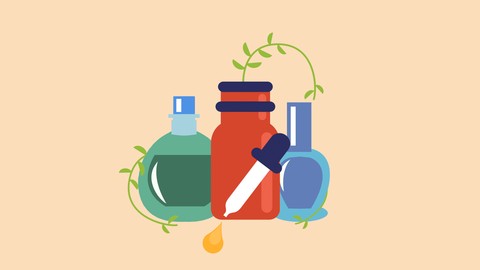 Worldwide
Free Udemy Course on Complete Guide To Essential Oils & Aromatherapy
This is a COMPLETE GUIDE to everything you have ever wanted to know about Essential Oils & Aromatherapy.
Aromatherapy is a new form of alternative medicine. It uses a variety of natural essential oils to heal and better a person's overall well-being and healthy. Aromatherapy simply refers to the use and application of plant essential oils that are normally diluted in some kind of solution to provide therapeutic application. These essential oils are extracted from mother nature, which includes leaves, bark, roots, rind and flowers of plants.
The topics covered in this course are:
What is Aromatherapy?
The History of Aromatherapy
Current Trends/Future Forecasts
Distillation, Extraction and Storage
Safe Use, Cautions and Everything Else
The Benefits of Essential Oils
Base Oils and Products
Where To Obtain These Products
Note: This essential oil course is not affiliated with any products company or multi-level marketing schemes. It is purely an educational course. You do not have to purchase anything to go through this course, although if you do already have some essential oils on hand to examine and use during the lectures, it's going to be very beneficial!
Get the ultimate course on Essential Oils & Aromatherapy to start turning your life around with the power of nature.
What are the requirements?
Access To Essential Oil Products
The desire to harness the power of nature for body, mind and spiritual wellness
What am I going to get from this course?
Over 15 lectures and 1 hour of content!
Understand the benefits of Essential Oils
Learn various therapy techniques they can apply to their daily lives
Live a healthier life thanks to aromatherapy
What is the target audience?
Someone interested in essential oils or aromatherapy
Those who want a healthier and happier lifestyle with the use of natural products
Get your Free Udemy Course on Complete Guide To Essential Oils & Aromatherapy by clicking here.
Tags: #giftout.co,#giftout, #giftoutco, #giftoutsingapore, #giftoutusa, #giftoutmalaysia, #giftoutworldwide, #giftoutsweepstakes, Giftout Singapore, Giftout Malaysia, Giftout USA, Giftout Sweepstakes, Giftout Worldwide, Free Singapore, Singapore Free, Free Malaysia, Malaysia Free, USA Free, Free USA, Worldwide Free, Free Worldwide, Singapore freebies, Malaysia freebies, USA freebies, Singapore giveaway, Malaysia giveaway, FREE, #FREE, gifts, free gifts, free gift, contests, contest, #sweepstakes, #giftoutkorea, korea free, free korea, Giftout Korea, Giftout Exclusive, www.giftout.co, free korea, #Singapore, #Malaysia, #Korea, #USA, #Worldwide, @giftout, @Singapore, @Malaysia, @Korea, @Worldwide, #contests, #Contest, free everyday, free today, #sale, #marketing, #facebook, facebook, #tweets, tweets, #fb, fb, #twitter, twitter, Instagram, #instagram, #google, google, google+, #google+, linkedin, #linkedin, tumblr, #tumblr, youtube, #youtube, social media, Korea giveaway, worldwide giveaway, usa giveaway, malaysia gift, singapore gift, korea gift, usa gift, free gifts, free gift, video, #video, videos, #videos, #giftideas #giftcard, #follow, follow, competition, #competition, prize, #prize, #birthdaygifts, #giveawaysingapore, #giveawaymalaysia, #giveawaykorea, #giveawayusa, #giveawaycontest