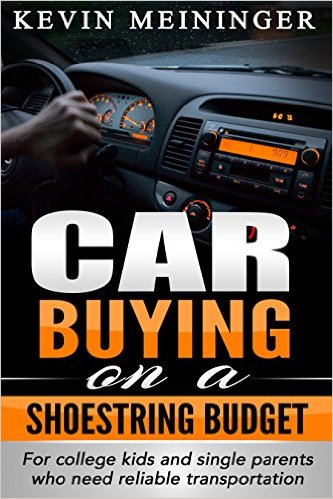 Worldwide
Free eBook at Amazon: Car Buying on a shoestring budget: for college kids and single parents who need reliable transportation (Auto Tips Book 1)
Everyone needs a car but everyone hates the buying process!
Without a doubt, nobody likes the process of buying cars. Aside from the fact that you're about to make a major purchase, it can be downright scary if you don't really understand what you're doing. There are so many ways you could get ripped-off or overpay, even by thousands of dollars! To make matters worse, you could end up buying a car that has major problems if you don't know the warning signs to look for.
Learn a step-by-step plan for screening used-cars before you even leave home
All you need is a general idea of the type of car you want. 80% of your research should be done from home, and only visit the small handful of cars you might actually buy. This book teaches you a step-by-step plan for screening out all the junk from online sellers in plain language. The good cars have nothing to hide, so they freely share all the pre-purchase information you need. You will learn how to ask the right questions up front and spot potential problems you don't want. You do not need to have any technical car knowledge to find and purchase a great used-car!
Find out what a car is really worth before you make an offer
Knowing what a car is actually worth is very empowering. Don't let sellers try to convince you that their vehicle should be more than what you know it's worth. Learn how to confidently offer a specific purchase price and walk-away from bad deals. I will teach you how to negotiate a fair price to the seller, explaining exactly how you arrived at the car's worth.
Save a ton of money by letting your car pay YOU each month!
It may sound strange to think you could be pocketing money each and every month from your car… but that is exactly what happens when you get yourself into a safe, reliable used-car! Don't make the mistake of buying from a dealership that tries to rope you into loan payments! Most people do not realize how easy it is to find a good car for many thousands less than what a dealer would make you pay. You don't want to be paying for your car month-after-month for years – pay yourself instead!
This book is packed with useful information covering every aspect of buying a used-car. Use this advice like a checklist every step of the way so you won't forget anything important. The chapters are ordered in a logical way that mirrors the process I use to buy my own cars:
Chapter 1: How to make your car PAY YOU each month

New vs. Lease vs. Used
Getting out of a loan you already have

Chapter 2: Research the best used-cars from your couch

Finding a decent used car cheap
Where to start your search for used vehicles
Tips for screening Craigslist offerings
Filter private-party only with price range
Initial screen for prospective buys
Lookup the current fair value

Chapter 3: Visit only cream-of-the-crop cars you find

Meeting sellers and inspecting vehicles
Test drive the car to get a good feel
Red flags and warning signs to beware

Chapter 4: Complete your due diligence before making an offer

Research the vehicle history records
Special note about "salvage" or "total loss" titles
Hire a local mechanic or bring a friend
Regional government inspection
Final comparisons and gut feelings

Chapter 5: Negotiating the sale

Keep the bluebook target in mind
Be willing to walk away from some deals
Title and notary requirements
#giftout.co, #giftout, #giftoutco, #giftoutsingapore, #giftoutusa, #giftoutmalaysia, #giftoutworldwide, #giftoutsweepstakes, Gifout Singapore, Giftout Malaysia, Giftout USA, Giftout Sweepstakes, Giftout Worldwide, Free Singapore, Singapore Free, Free Malaysia, Malaysia Free, USA Free, Free USA, Worldwide Free, Free Worldwide, Singapore freebies, Malaysia freebies, USA freebies, Singapore giveaway, Malaysia giveaway, #giveaway, #giftoutgiveaway, Giftout Giveaways, Singapore Free Deals, Free Singapore Sample, Free Malaysia Sample, Free Sample, Free USA Sample, #free, #freebies, #affiliatemarketing, #smallbiz, #affiliate, #ppc, #marketing, #entrpreneur, #clickbank, #onlinemarketing, #jvzoo, #amazonassociates, #onlineretail, #custexp, #marketplace, #ecommerce,#retail, #emarketing, #socialcommerce, #emailmarketing, #inboundmarketing, #webmarketing, #onlinebusiness, #seo, #sem, #seomarketing, #searchengine, #socialmedia, #keyword, #searchranking, #google, #localsea, #bing, #social, #socialmedia, #socialmediamarketing, #socialnetworking ,#facebook, #twitter, #networkmarketing, #onlinemedia, #win
Tags: #giftout.co,#giftout, #giftoutco, #giftoutsingapore, #giftoutusa, #giftoutmalaysia, #giftoutworldwide, #giftoutsweepstakes, Giftout Singapore, Giftout Malaysia, Giftout USA, Giftout Sweepstakes, Giftout Worldwide, Free Singapore, Singapore Free, Free Malaysia, Malaysia Free, USA Free, Free USA, Worldwide Free, Free Worldwide, Singapore freebies, Malaysia freebies, USA freebies, Singapore giveaway, Malaysia giveaway, FREE, #FREE, gifts, free gifts, free gift, contests, contest, #sweepstakes, #giftoutkorea, korea free, free korea, Giftout Korea, Giftout Exclusive, www.giftout.co, free korea, #Singapore, #Malaysia, #Korea, #USA, #Worldwide, @giftout, @Singapore, @Malaysia, @Korea, @Worldwide, #contests, #Contest, free everyday, free today, #sale, #marketing, #facebook, facebook, #tweets, tweets, #fb, fb, #twitter, twitter, Instagram, #instagram, #google, google, google+, #google+, linkedin, #linkedin, tumblr, #tumblr, youtube, #youtube, social media, Korea giveaway, worldwide giveaway, usa giveaway, malaysia gift, singapore gift, korea gift, usa gift, free gifts, free gift, video, #video, videos, #videos, #giftideas #giftcard, #follow, follow, competition, #competition, prize, #prize, #birthdaygifts, #giveawaysingapore, #giveawaymalaysia, #giveawaykorea, #giveawayusa, #giveawaycontest