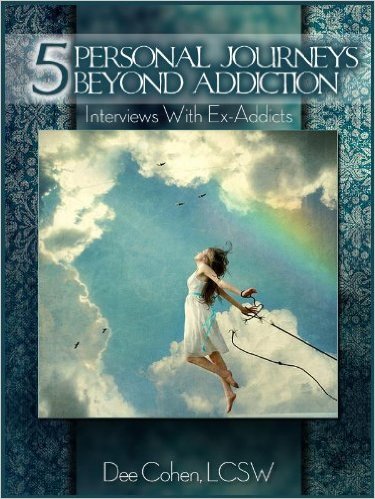 Worldwide
Free @ Amazon: Five Personal Journeys Beyond Addiction: Interviews With Former Addicts (Addiction Memoirs, Alcohol Recovery, Prescription Drug Addiction, 12 Step Recovery, Pain Pill Rehab, Recovery from Addiction)
People can become dependent on illegal drugs, prescription pills and alcohol for many reasons and each person has their own underlying story. One common thread most people share when they become dependent on alcohol and drugs is the emotional and physical effects and consequences. An addiction effects self-esteem, relationships, work and eventually every aspect of your life. NOTE: Kindle Unlimited + Amazon Prime Members can read this book for free.
I've interviewed top-selling authors including Todd Zalkins, Dennis Marcellino, Amy Lee Coy and Patty Holloran who each has a fascinating and inspiring story of addiction and recovery from drug abuse and/or alcoholism. In addition an artist and blogger's journey, Parker Lanier, who hit bottom and was able to turn his life around is included. Each of these individuals was very open and willing to share the tools and support they found helpful for getting beyond addiction. This book isn't always easy to read as there is a lot of pain in the accounts. No one approach is emphasized because as a social worker I know that individuals do not all respond to the same method or approach. Some people work well with a 12-step approach and others find that they respond with other methods.
Some of the questions that each person addresses are:
Was there a moment when you felt you had to permanently change? What was it and what led up to it?
What type of inner dialogues entrapped you held you back and kept the cycle going?
Can you comment on the role that faith, willpower, intention and prayer play in your life and have helped in the recovery process?
What do you recommend for someone who says they can't sustain their addiction-free life and that they continue to give in to relapsing despite having good periods?
As a therapist, I've observed that each person has to find his or her own solution or path to recovery. There are many paths to recovery; it's important that every person finds the path that's right for them. When this happens life becomes fulfilling again, self-esteem increases, relationships heal, and a person's quality of life improves.
As a counselor, I've found that many of the turning point moments for my clients were precipitated by either reading or hearing someone's personal story that was in a similar predicament. I've always been personally interested in what it takes to transform one's life, let go of patterns and leap into another level of life.
Each person that was interviewed reveals a unique journey, tremendous depth into the darkest places we can descend, as well as the joy of liberation from an enslaving addiction to drugs or drinking alcohol.
There are different approaches and points of view regarding AA, psychotherapy and faith.
I am privileged to share the remarkable true accounts of these five brave people and their different ways of overcoming temptations and remaining clean or sober. You'll find a deep honesty in each of their discussions on alcoholism, drugs and pain pill addiction.
Tags: Drug Rehab, Pain Pill Addiction, Alcohol Recovery, Substance Abuse, How to Stop Drinking, AA
Tags: #giftout.co,#giftout, #giftoutco, #giftoutsingapore, #giftoutusa, #giftoutmalaysia, #giftoutworldwide, #giftoutsweepstakes, Giftout Singapore, Giftout Malaysia, Giftout USA, Giftout Sweepstakes, Giftout Worldwide, Free Singapore, Singapore Free, Free Malaysia, Malaysia Free, USA Free, Free USA, Worldwide Free, Free Worldwide, Singapore freebies, Malaysia freebies, USA freebies, Singapore giveaway, Malaysia giveaway, FREE, #FREE, gifts, free gifts, free gift, contests, contest, #sweepstakes, #giftoutkorea, korea free, free korea, Giftout Korea, Giftout Exclusive, www.giftout.co, free korea, #Singapore, #Malaysia, #Korea, #USA, #Worldwide, @giftout, @Singapore, @Malaysia, @Korea, @Worldwide, #contests, #Contest, free everyday, free today, #sale, #marketing, #facebook, facebook, #tweets, tweets, #fb, fb, #twitter, twitter, Instagram, #instagram, #google, google, google+, #google+, linkedin, #linkedin, tumblr, #tumblr, youtube, #youtube, social media, Korea giveaway, worldwide giveaway, usa giveaway, malaysia gift, singapore gift, korea gift, usa gift, free gifts, free gift, video, #video, videos, #videos, #giftideas #giftcard, #follow, follow, competition, #competition, prize, #prize, #birthdaygifts, #giveawaysingapore, #giveawaymalaysia, #giveawaykorea, #giveawayusa, #giveawaycontest