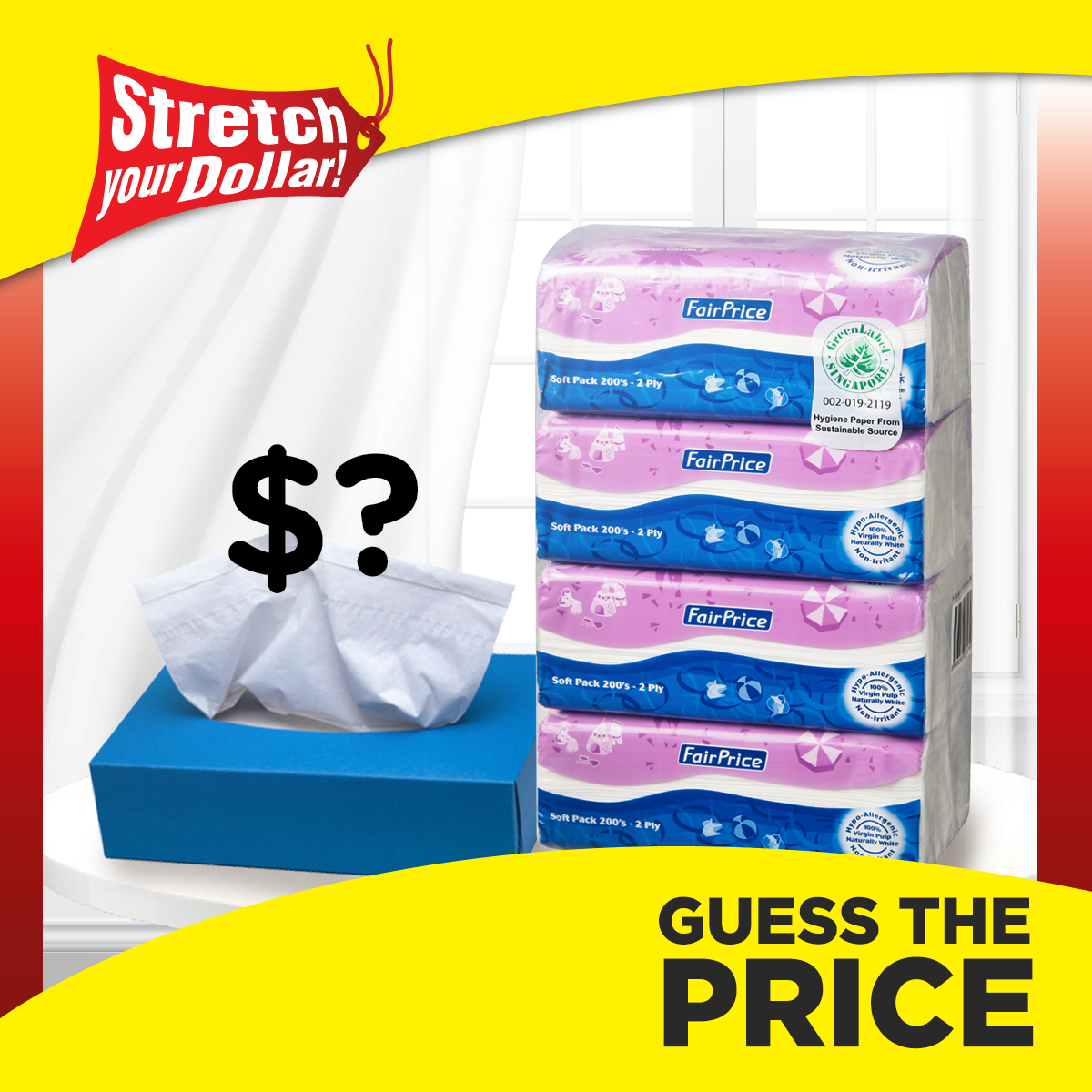 Singapore
Win $50 voucher at NTUC FairPrice
#StretchYourDollar with our 100% virgin pulp, hypo-allergenic FairPrice Soft Pack Facial Tissue!
Guess the usual price of FairPrice Soft Pack Facial Tissues 4s x 200sh. 3 correct lucky winners with the right answers will walk away with $50 voucher each! Contest ends 30 June, 2359hrs. T&Cs apply.
Terms and Conditions for Stretch Your Dollar Facebook Wall Contest
"Stretch Your Dollar Social Media Contest" ("Contest") is organised by NTUC FairPrice Co-operative Limited ("FairPrice") on its social media platforms ("Platforms") as follow:

FairPrice Facebook – https://www.facebook.com/thatsmyfairprice
FairPrice Twitter – https://twitter.com/FairPriceSG
FairPrice Instagram – https://instagram.com/fairpricesg/

These Terms and Conditions govern your participation in the Contest, and apply in addition to any applicable terms of use found on the Platforms. Please read these terms carefully before entering into the Contest.
By entering the Contest, you agree to be bounded by these terms. In addition, you are acknowledging that the details you have provided are true, accurate and complete.
By submitting your information and personal particulars, you agree and consent to FairPrice collecting, using and disclosing such information for the purpose of administering the Contest, verifying your identity, contacting you in event of any emergency, winnings and related purposes.
The Contest opens from 10 June 2015, Wednesday, to 07 July 2015, Tuesday, 2359hrs (GMT +8, Singapore Time).
The Contest is open to all FairPrice social media platforms customers. FairPrice employees, its subsidiaries, its affiliates, its suppliers, its suppliers' employees and their immediate family members are allowed to participate in this Contest, but are not eligible to win the prize.
All decision of the panel of judges are final and binding on any matter pertaining to the Contest.
FairPrice reserves the right to change any terms of the Contest without prior notice and to substitute any prize with one of equivalent value at its sole discretion.
This Contest is governed by and constitute in accordance with the laws of Singapore.
Participants in the Contest understand and agree that in order to win the Contest, FairPrice or a third party administrator must collect and use personally identifiable information about Participants and will from time to time contact Participants via their e-mail and/or other addresses as provided. All information gathered by FairPrice will be shared with third party administrators, for the limited purpose of administering this Contest.
By participating in this Contest, the winning Participants grant FairPrice the right to publish the results of the Contest and Prizes, and disclose and publish their information (including name) on the Platforms.
You acknowledge that FairPrice does not own or host the Platforms and the relevant privacy notice found at the Platforms will apply.
This Contest is not sponsored by or associated with Facebook, Twitter and Instagram
Under no circumstances shall FairPrice be liable for any loss and/or damage incurred by any party (including without limitation to the loss of income, profits or goodwill whether the same be direct or indirect, incidental, consequential, exemplary or punitive) nor shall FairPrice be liable for any special damages to any party including third parties howsoever arising whether in contract, tort, negligence or otherwise, in connection with the Contest and/or the prizes, even if FairPrice have been advised of the possibility of such loss and/or damages in advance, and all such loss and/or damages have been expressly excluded.
Winner announcements will be made via comment on the respective individual Stretch Your Dollar Contest posts on FairPrice Platforms by 16 July 2015.
Prizes unclaimed 1 month after the winners' notification will be forfeited.
Find out more on how to Win $50 voucher at NTUC FairPrice Facebook page.
Tags: #giftout.co,#giftout, #giftoutco, #giftoutsingapore, #giftoutusa, #giftoutmalaysia, #giftoutworldwide, #giftoutsweepstakes, Giftout Singapore, Giftout Malaysia, Giftout USA, Giftout Sweepstakes, Giftout Worldwide, Free Singapore, Singapore Free, Free Malaysia, Malaysia Free, USA Free, Free USA, Worldwide Free, Free Worldwide, Singapore freebies, Malaysia freebies, USA freebies, Singapore giveaway, Malaysia giveaway, FREE, #FREE, gifts, free gifts, free gift, contests, contest, #sweepstakes, #giftoutkorea, korea free, free korea, Giftout Korea, Giftout Exclusive, www.giftout.co, free korea, #Singapore, #Malaysia, #Korea, #USA, #Worldwide, @giftout, @Singapore, @Malaysia, @Korea, @Worldwide, #contests, #Contest, free everyday, free today, #sale, #marketing, #facebook, facebook, #tweets, tweets, #fb, fb, #twitter, twitter, Instagram, #instagram, #google, google, google+, #google+, linkedin, #linkedin, tumblr, #tumblr, youtube, #youtube, social media, Korea giveaway, worldwide giveaway, usa giveaway, malaysia gift, singapore gift, korea gift, usa gift, free gifts, free gift, video, #video, videos, #videos, #giftideas #giftcard, #follow, follow, competition, #competition, prize, #prize, #birthdaygifts, #giveawaysingapore, #giveawaymalaysia, #giveawaykorea, #giveawayusa, #giveawaycontest