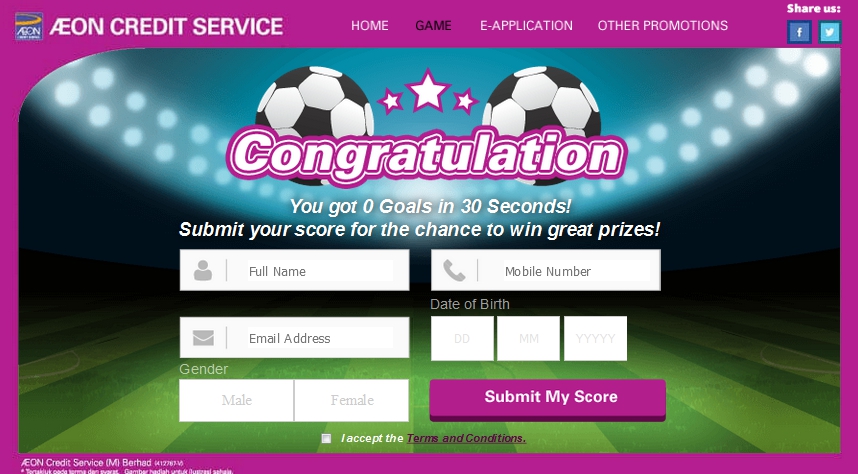 Malaysia
AEON Credit Service (M) Bhd JUARA BOLA ONLINE SOCCER GAME CONTEST
1.0 CONTEST PERIOD This Contest is organised by AEON Credit Service (M) Berhad ("AEON Credit") and will commence from 25 June to 10 July 2016, both dates inclusive ("Contest Period").
2.0 ELIGIBILITY
2.1 To participate in this contest, Eligible Participants are required to watch Juara Bola online video which appears at random on Google Search Engine, Facebook and Youtube. The Eligible Participant must be a fan of AEON Credit on Facebook. If not a fan, Eligible Participants must "like" AEON Credit official Facebook page. After view of the video, Eligible Participant will be entitled for the online soccer game. Eligible Participants are required to play the online soccer game to stand a chance to win the following prizes.
3.0 SELECTION OF WINNERS
3.1 Types of prizes are based on the number of goals scored during the online soccer game. Details of the prizes are as follows:-
3.4 Winners will be contacted by AEON Credit or its appointed representatives. Notification letter for the winners will be sent to the residential address as per the details in the application form. Winners are required to provide preferred delivery address to receive prizes. Winners failed to provide address may redeem their prizes at the appointed locations which will be stated in the email, letters, SMS and/or informed via phone call.
3.5 Winner must present their original identity card for prize redemption. If winner is unable to collect the prize, the winner shall nominate a representative. The authorized representative must provide the following documents during prize collection:- (i) a letter of authorisation, signed by the winner; (ii) a photocopy of winner's identity card; and (iii) representative must present his/her identity card as reference.
3.6 In the event a winner fails to collect his/her prize within the redemption period stated in the letter, the prizes shall be forfeited and he/she shall waive any claims to that prize.
4.0 OTHER TERMS AND CONDITIONS
4.1 The visual of the prizes on www.aeonmalaysia.com.my or on any official promotional materials for this Contest serves as illustration purposes only. The Terms and Conditions may be amended from time to time and shall prevail over any provisions or representations contained in any other promotional or advertising materials.
4.2 AEON Credit reserves the absolute right to substitute or replace any of the prizes with other items of similar value at any time without any prior written notice, if the prizes stated are not available due to unforeseen circumstances. All prizes are not redeemable for cash.
4.3 AEON Credit, its agencies, affiliates, sponsors and representatives shall not be responsible, obligated or liable for the misuse of any of the prizes, nor for any claims, liability, loss, expenses, costs, theft or damages arising out of or in connection with and/or the prizes associated with this Contest.
4.4 AEON Credit's decisions on any matter relating to the Contest are final and binding on all participants. No further correspondence or attempts to dispute such decisions will be considered by AEON Credit.
4.5 AEON Credit may vary any of these Terms and Conditions including terminating or suspending the Contest and/or extending the Contest Period. Any such changes will accordingly be announced on AEON Credit website.
4.6 By participating in the Contest, it is deemed that all participants:- a. consent AEON Credit to collect, record, hold, store, use and disclose their personal information for purposes which are necessary or related to the participation in the Contest; and b. consent AEON Credit to disclose their personal information such as their names, addresses, telephone numbers and shall be used only in relation to and for purposes of the Contest; and c. consent that their photos or video clips to be used for current or future advertising and/or publicity in relation to the Contest without any claim for payment nor compensation.
4.7 By participating in the Contest, Eligible Participant agrees to be bound by these terms and conditions stated therein.
Tags: #giftout.co,#giftout, #giftoutco, #giftoutsingapore, #giftoutusa, #giftoutmalaysia, #giftoutworldwide, #giftoutsweepstakes, Giftout Singapore, Giftout Malaysia, Giftout USA, Giftout Sweepstakes, Giftout Worldwide, Free Singapore, Singapore Free, Free Malaysia, Malaysia Free, USA Free, Free USA, Worldwide Free, Free Worldwide, Singapore freebies, Malaysia freebies, USA freebies, Singapore giveaway, Malaysia giveaway, FREE, #FREE, gifts, free gifts, free gift, contests, contest, #sweepstakes, #giftoutkorea, korea free, free korea, Giftout Korea, Giftout Exclusive, www.giftout.co, free korea, #Singapore, #Malaysia, #Korea, #USA, #Worldwide, @giftout, @Singapore, @Malaysia, @Korea, @Worldwide, #contests, #Contest, free everyday, free today, #sale, #marketing, #facebook, facebook, #tweets, tweets, #fb, fb, #twitter, twitter, Instagram, #instagram, #google, google, google+, #google+, linkedin, #linkedin, tumblr, #tumblr, youtube, #youtube, social media, Korea giveaway, worldwide giveaway, usa giveaway, malaysia gift, singapore gift, korea gift, usa gift, free gifts, free gift, video, #video, videos, #videos, #giftideas #giftcard, #follow, follow, competition, #competition, prize, #prize, #birthdaygifts, #giveawaysingapore, #giveawaymalaysia, #giveawaykorea, #giveawayusa, #giveawaycontest